I know, Episode IX isn't going to be here anytime soon and I should probably focus on Solo: A Star Wars Story, which is actually going to be in theaters in about three months, but I can't help but think about the final installment of this current Star Wars trilogy.
The Last Jedi was amazing and now that the novel for The Last Jedi is almost upon us a lot of my questions will be answered and there will undoubtedly be some juicy content that I won't even see coming that'll hopefully shine a light on the upcoming sequel. Outside of the hints that The Last Jedi movie and novel might provide here are the things that I would love to see happen or explained in Episode IX. Enjoy!
The Knights of Ren
In The Force Awakens we were given a brief, but very cool, glimpse of the evil cult Kylo Ren leads, the Knights of Ren, but since then there has been little mention of these black clad warriors. I believe this was intentional.
Rian Johnson took J.J Abrams' ideas and upended them for the better by killing Snoke, making Kylo Ren the Supreme Leader of the First Order, literally grounding Poe to make him a better person, having Finn embark on a mission away from the friends that he knew to also help him grow, revealed that Rey's parents are deadbeats, turned Luke into a depressed hermit/hero, and basically annihilating the Resistance. These were some of the more striking choices that Rian Johnson made and I loved them. One thing he didn't tamper with, however, were the Knights of Ren.
This mysterious group he left to the devices of J.J Abrams in Episode IX and I am seriously hoping they finally make their major Star Wars debut in this ninth film. Snoke had his Praetorian Guards. I believe it's only fair that Kylo Ren should have his Knights of Ren to be his personal guard. That would probably lead to a rather epic battle that I don't even want to imagine just in case it doesn't happen and I won't be disappointed. Still sounds awesome though. 🙂
More Rey and Finn
One of my favorite things about The Force Awakens was the dynamic between the film's new heroes, Rey and Finn. They were magnetic, they made the movie a blast to watch, and they became one of my favorite duos in Star Wars. Unfortunately they literally had only ONE scene together in The Last Jedi which was very disappointing indeed. How are you going to take two characters who were so amazing together and separate them for the entirety of a film when they shared most of their scenes together in their previous film? It's one of the few things I wish could've been changed in The Last Jedi but alas, it can't.
What needs to happen is J.J Abrams has to bring them back together. They don't have to be by each other's side the entire film but they can't only share one scene in the whole movie again. That would be ridiculous. I want to see more of that Rey/Finn banter that brought me so much joy in the first place.
Luke As a Force Ghost
Luke might've transcended into the Force at the end of The Last Jedi but that shouldn't be the last time we see the Jedi master. He doesn't even have to have a huge role in the slightest. All I need is a tiny cameo and I will be totally satisfied.
Poe Piloting An X-Wing Again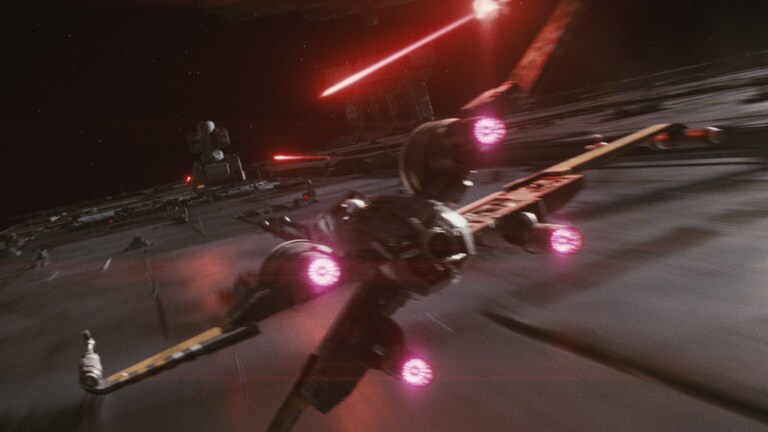 I loved Rian Johnson's decision to destroy Poe's beautiful black and orange X-wing *sniffle sniffle* so that Poe could learn to be a better leader as he handles problems using his brain instead of his rad piloting skills but I would love to see the dashing pilot reacquaint himself with the inside of a cockpit. Yes, after The Last Jedi Poe Dameron is now a greater leader of the Resistance but that doesn't mean he should stop getting in his ship and blowing stuff up. (See what I did there?) 🙂
I need the old kick butt Poe back for Episode IX.
An Epic Lightsaber Duel
Did you realize that The Last Jedi is the first Star Wars movie (besides Rogue One but that doesn't really count) that didn't have a lightsaber duel? Rian Johnson obliterated a lot of Star Wars traditions. Yes, there was the incredible duel between Kylo Ren, Rey, and the Praetorian Guards but that wasn't a traditional lightsaber fight.
And then the duel between Kylo Ren and Luke Skywalker wasn't a lightsaber fight because their lightsabers never even touched. (GREAT scene by the way.)
The Last Jedi broke ground by not incorporating one of the greatest Star Wars treats, a lightsaber duel, and while I applaud Rian Johnson for that bold choice I want to see at least one laser sword on laser sword battle in Episode IX. There's nothing better than hearing and seeing two lightsabers clash in IMAX and I desperately want that lovely experience again.
Come on, J.J Abrams. Please give us an even more epic Kylo Ren/Rey showdown again. That would be incredible!!!!
Well, these are the things, so far, that I'm hoping happen in Episode IX. If I can think of some more aspects to the film I would love to see I'll gladly share them with you but until then, this is it.
I thank you for reading and I hope you have a magical day. May the Force Be With You.