The Last Jedi introduced three new characters and Amilyn Holdo, who was one of them, has become one of my favorite new additions to the Star Wars universe. First of all, I already loved Laura Dern for her role in the iconic Jurassic Park so to find out she was going to be in a Star Wars movie was exciting enough as it is. Then I saw her character and I was immediately interested in this new, pink-haired (the first pink haired character in Star Wars I might add) admiral of the Resistance but I had no idea she would have as large a role as she did and that was even more exciting to discover.
A lot of people didn't like the Resistance admiral but, I for one, loved her. I loved that she was dressed differently, I loved her pink hair, I loved her toughness and her authoritative attitude, and I loved how simply awesome she was. So today I'm going to share with you the Greatest Moments of Admiral Holdo. Enjoy!
1. A One-on-One Conversation with Poe Dameron
I loved this scene in The Last Jedi because it was the first time Poe had a conversation with his new boss, Admiral Holdo, and it was kind of amazing to watch. I wasn't expecting her to dismiss him so easily but to see her treat him with such disregard was kind of incredible. Yes, he may be the incredibly dashing, super awesome Resistance Commander/ridiculously skilled pilot but that didn't make him special or garner him any extra treatment. In Holdo's eyes he was a disobedient officer (which he was) and she was going to treat him that way.
I was legitimately surprised and impressed and it made me like her instantly.
2. Watching Poe, the Madman
This is another scene that impressed me greatly of Holdo's leadership. When Poe thought she was leading the Resistance to eminent doom when she was actually leading them to safety he went on an angry rampage, knocking over chairs, hollering at her and calling her a traitor (I think I remember him calling her that,) and meanwhile she just watched him make a fool of himself without even having to raise her voice to him. That's called a leader right there. And what did she do? She simply told him to get off her bridge. Awesome!
I don't care what anyone says about her, Holdo is a great character and it's really sad that she was only able to grace one Star Wars film.
3. Taking Back Command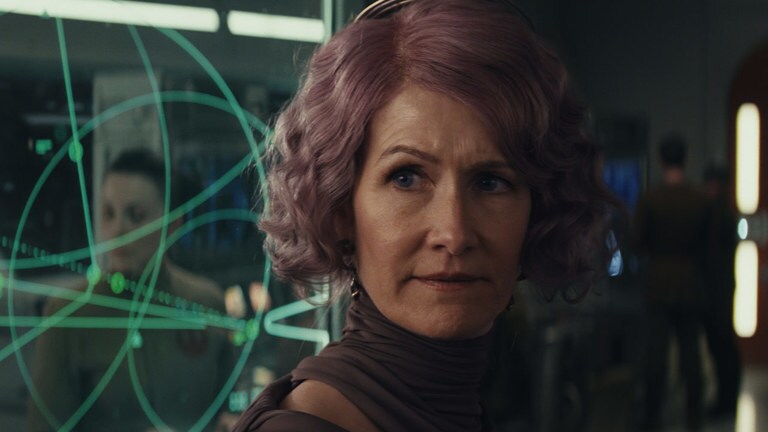 Another exciting moment from the wonderfully cool Admiral Holdo was seeing her take back her command as leader of the Resistance after Poe tried to lead a mutiny against her. I remember watching the movie for the first time and thinking, "Oh well. Poe's going to run things now." It was so surprising to see her, even at gunpoint, still take control of the situation and reclaim command of her vessel, with the help of Leia of course. One of my favorite things is a Star Wars heroine who can take of herself in any scenario and Holdo is that woman. Like I said before, she's such an awesome character.
4. The HyperSpace Maneuver
This is, of course, one of the coolest and most creative things that has ever happened in Star Wars. I mean, look at this picture. It's utterly fascinating and who performed one of the greatest and most heroic maneuvers in the franchise? Yes, it was Vice Admiral Amilyn Holdo. She single-handedly saved the Resistance from an even grimmer fate that they could've suffered and that's pretty cool.
This was also such a visually stunning scene. The fact that Rian Johnson made the incredible decision to have no sound at this part is truly brilliant and the most realistic thing that's happened in Star Wars. Rian Johnson definitely went for some bold choices in this movie and I think this is the scene that everyone can agree was one of the coolest things that's ever took place in this remarkable franchise.
Even though I won't get the pleasure of learning a little more about the Admiral in Episode IX since she sacrificed herself at least she went out with a bang. :[)
Well, these are the moments that made me a Holdo fan and I'm glad she's part of the Star Wars universe. I thank you for reading and I hope you have a fabulous day. May the Force Be With You.