When Disney bought LucasFilm in 2012 and announced that they were going to make Star Wars movies I could only imagine who the new villain would be. When I saw him in the first teaser for The Force Awakens I immediately knew he was going to become an iconic villain in Star Wars because he was that cool. His awesome crossguard lightsaber, the black robes and short hooded cloak, he was perfect. Now three years later Kylo Ren has become the most interesting character of this new trilogy to me. He's both sides of the spectrum, good and evil, and Adam Driver portrays the character of Kylo Ren so perfectly that I can't imagine anyone else playing the conflicted villain. So today, I'm going to share with you my favorite Kylo Ren moments. Enjoy!
1. Entering the Jakku Village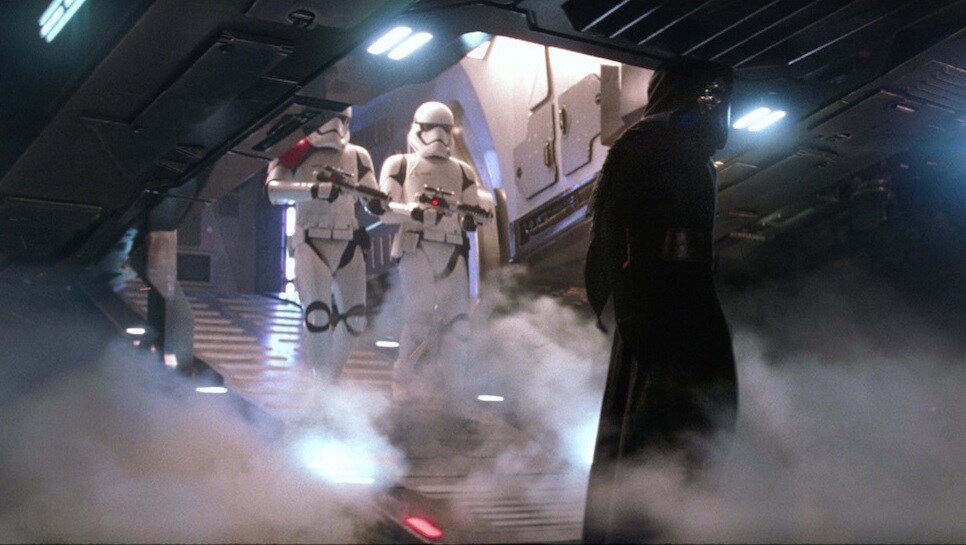 This was the perfect entrance for Kylo Ren into The Force Awakens. Just like Darth Vader did in A New Hope he entered into the movie out of a cloud of smoke, surveying the battlefield that his stormtroopers had razed the same way Darth Vader surveyed the dead rebels aboard the Tantative IV. Awesome! And then seeing him freeze Poe's blaster in midair was a total drop-the-mic moment for me. Kylo Ren had only been in the movie for a few minutes and he was already stealing the show. His distorted voice sounded amazing too. 🙂
2. Finding Rey
This is just a cool scene in itself. Kylo Ren, at this point in the movie, is at his scariest. He's basically a First Order assassin and he looks it too. The black robes and silver streaked helmet provide him an air of menace and I feel every bit of Rey's fear as she runs from him. I would be just scared as her, maybe even more so. It's also a really cool scene because it's the first time they interact with each other. So cool!
3. The Shocking Reveal
I still remember my shock when I saw this scene for the first time. When Kylo Ren was taking his helmet off I, for some reason, thought he was going to be a blue alien or something like that forgetting that he was Han and Leia's son, duh. *rolling my eyes* So then when he took his helmet and his face appeared from underneath his mask I was utterly stunned. The perfectly dark and wavy hair, the young face, it was incredible. It's definitely one of the most surprising moments in Star Wars and undoubtedly one of my favorite Kylo Ren moments.
4. Destroying the Mask
There's something darkly satisfying about Kylo Ren destroying his mask. Maybe it's because of the music, maybe it's the fact that with him obliterating the helmet it means he doesn't provide Darth Vader nostalgia, or maybe because it's just an awesome part, whatever the case I've loved this scene immensely since the first time I've seen it and it's only getting better with every viewing. *thumbs up*
5. Kylo Ren Displays His Piloting Skills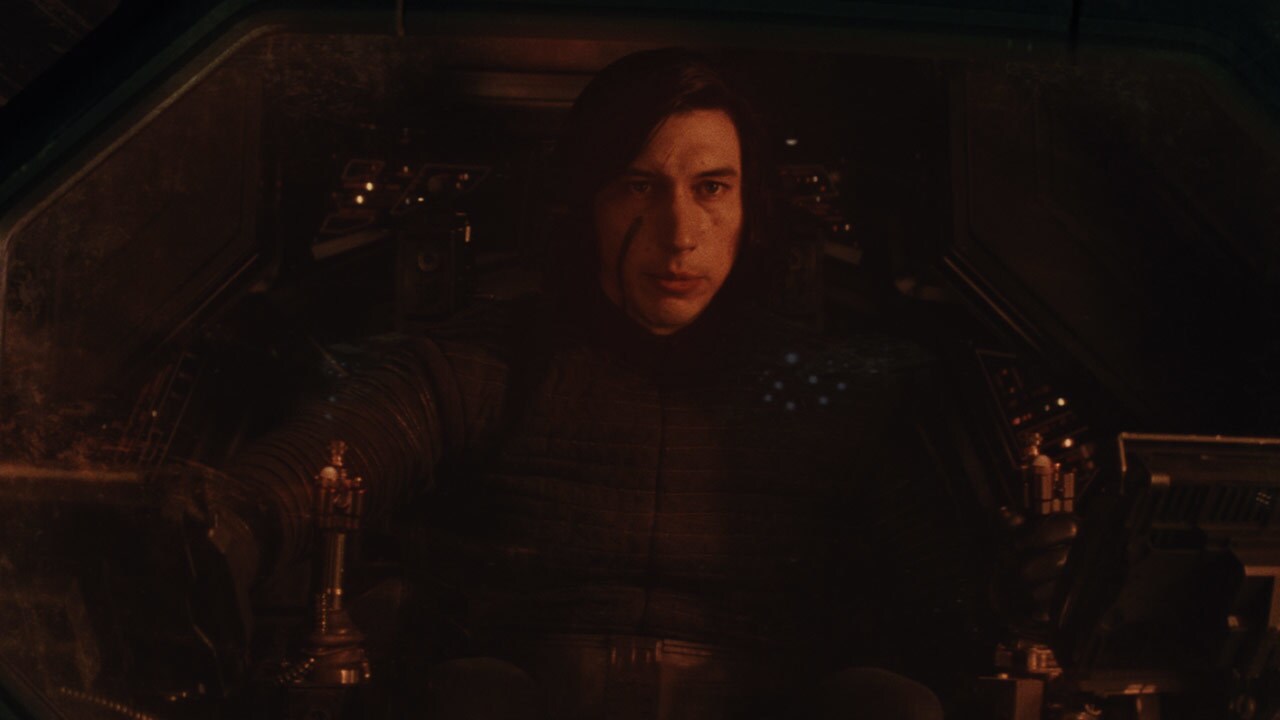 When I found out Kylo Ren had his own specific Tie fighter I was already blown away but then seeing him pilot the fighter was even more of a treat. He did so much damage so quickly, it was stunning. And then seeing him sense his mother through the Force and not killing her made this scene all the more special. Great part right there.
6. Killing Snoke
Kylo Ren had a choice, kill Rey and truly become Snoke's perfect apprentice or…kill Snoke and forge his own destiny. He chose the latter and I couldn't be happier. Kylo Ren was already a fantastic character but he remained in the shadow of Darth Vader for a huge portion of the film. With him killing Snoke he came into his own and I'm so excited to see him return in Episode IX as Supreme Leader. Him killing Snoke also led to literally one of the coolest movie scenes I have ever seen, the Praetorian Guard fight. Best Star Wars scene ever! 🙂
7. Supreme Leader Kylo Ren
The entire Crait sequence for Kylo Ren is one of his greatest moments because of three things. One: it's the first time you see him as a leader. In his command shuttle he gave orders and laid out the plan for the First Order as the new Supreme Leader of the First Order and it was kind of amazing. For so long he's stood in the shadow of someone, whether it was Snoke or Darth Vader's legacy, but this time he was calling the shots and that was awesome.
Two: the showdown between him and Luke Skywalker is epic with a capital E. I've seen a lot of awesome moments in Star Wars but this is definitely one of them. And when he finds out that Luke isn't even there the shock on his face is joyous to watch. I. Love. That. PART!!!!
Three: And then when he enters the empty rebel base it's a quiet moment for his character. He's just endured a hard lesson by Luke Skywalker and it's the first time you see him truly broken. As Rey cuts off their final force connection and his father's golden dice (which weren't even real) melt away from his hands it's one of the saddest moments of the film. Kylo hangs his head, kneeling alone in the room his mother had just been in, and you really feel for him.
He might be an evil character but there's a deeper, more compassionate side to him as well. He only wants love and companionship and just when he thought he found that in Rey he lost her as well. At the end of The Last Jedi he's truly alone and I'm just hoping he finally goes good (and doesn't die) in Episode IX because that would be the perfect ending to his story.
I thank you for reading and I hope you have a fabulous day. May the Force Be With You.