It's eight days away until Solo: A Star Wars Story hyperspaces into theaters and as part of this week long countdown I'm going to talk about every major character that's going to appear in this latest Star Wars film and my excitement for them. Enjoy!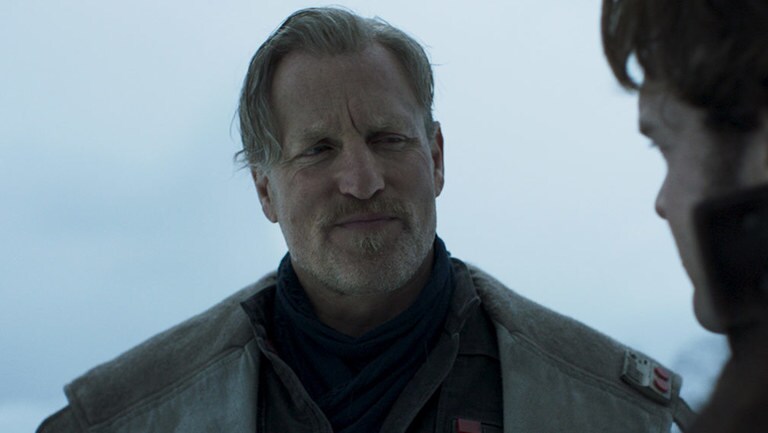 Before I even knew which actor was going to play the iconic Han Solo it was announced that Woody Harrelson was going to play the role of Han's mentor, a man by the name of Tobias Beckett, and I couldn't have been more excited. Woody Harrelson used to be mainly known as the cute, innocent faced Woody Boyd on Cheers but that is undoubtedly not his perception anymore in Hollywood as he has portrayed tons of just horrible individuals throughout his acting career. When I heard he was going to be in Star Wars I knew he was going to be a perfect fit for a movie focusing on the life of a young smuggler and after seeing him in the commercials and trailers my view of him has not dwindled in the slightest.
When I saw Tobias Beckett in the first trailer I was beyond excited. He emitted everything I would have wanted in a scoundrel mentor for Han Solo and he got me super pumped. I absolutely can't wait to see what tips and ideals he'll have that'll rub off on Han Solo in a way that'll makes us look at the young smuggler in a different light in the original trilogy. Like for example, will he be the one to make Han, when we first meet him in A New Hope, that cynical person who shoots first and acts like he's the coolest person in the galaxy? Or will he just be that sort of father figure Han, as an orphan, has never had and will instill in him that "good heart" Han is so well known for having?
These are questions that I can't wait to be answered in Solo: A Star Wars Story and I couldn't be happier that it's only a week until this brand new Star Wars film arrives. I'm so excited! 🙂
I thank you for reading and I hope you have a wonderful day.