One of the unexpected tragedies of 2016 was the surprise passing of Hollywood icon, Carrie Fisher. She died shortly before Episode VIII was even given a title and throughout the entire process of marketing for The Last Jedi it was chilling to think that this would be Leia's final appearance in a Star Wars movie. I remember when I watched The Last Jedi for the first time I was patiently waiting to see how they would release her from this franchise. Time and time again it seemed like she was going to die but by the end of the film I was legitimately surprised to see that she was still very much alive in the context of the story and seemed to have no signs of passing away anytime soon. So that left me (and I'm sure the writers of Episode IX) with quite a conundrum to figure out. How is Lucasfilm going to possibly write out such an important character at such a pivotal time in the Resistance? Well, I have a few ideas that I would like to share and maybe these theories will turn out to be correct. Who knows. 🙂
Leia Slowly Succumbs To Grief
Throughout Leia's involvement in the Star Wars franchise she has experienced a lot of sorrow and heartbreak and The Last Jedi only built on that narrative. In The Last Jedi we got to see her having an intimate moment with her own thoughts and worries and it was one of the most profound scenes in the film as we got to see Leia vulnerable for the first time. While Rian Johnson, of course, didn't know that Carrie Fisher was going to die it seems like he has perfectly set up this idea that General Leia has grown old and tired, she's looking for newer, younger leadership to take her place in the form of Poe Dameron, and after the loss of her brother, Luke Skywalker, she slowly begins to give in to the grief that she has been trying to suppress since the annihilation of Alderaan. But does that tarnish Leia's legacy?
For years she has been viewed as this strong, independent heroine who doesn't take orders from anybody and refuses to be placed in the damsel-in-distress mold. Should a woman like this finally face death from a cause of immense heartbreak? I don't know, honestly.
Leia Gets Assassinated
One of the ways to start Episode IX with a surprising bang would be for the unexpected assassination of General Leia by one of Kylo's Knights of Ren. Let's say the Knights infiltrated the Resistance's main base and in the dark of night stroke without warning with a platoon of First Order fighters behind them. Then we could get an exciting action scene involving Jedi Master Rey, Finn, Poe, Rose, and maybe a new Resistance hero that the scene could introduce us to. At the end of the battle the First Order would be beaten back and a few of the Knights would perish but not without victory, for Leia would have been successfully assassinated during the Tie Fighter diversion. Not only would that take Leia out of the rest of the movie but it would also start the movie on a somber note that'll launch the film into a finale sort of vibe.
And while this sounds like a perfect theory there's only one problem to this scenario. Kylo Ren is now the Supreme Leader of the First Order so that means he would have had to greenlight the mission. But in The Last Jedi when he was faced with killing his mother once and for all he hesitated and didn't push the trigger. Would he really have the Resistance general assassinated when he has already revealed that he couldn't possibly commit the treacherous act of killing his mother? I don't think so. But it's still an interesting theory.
Leia Passes In Her Sleep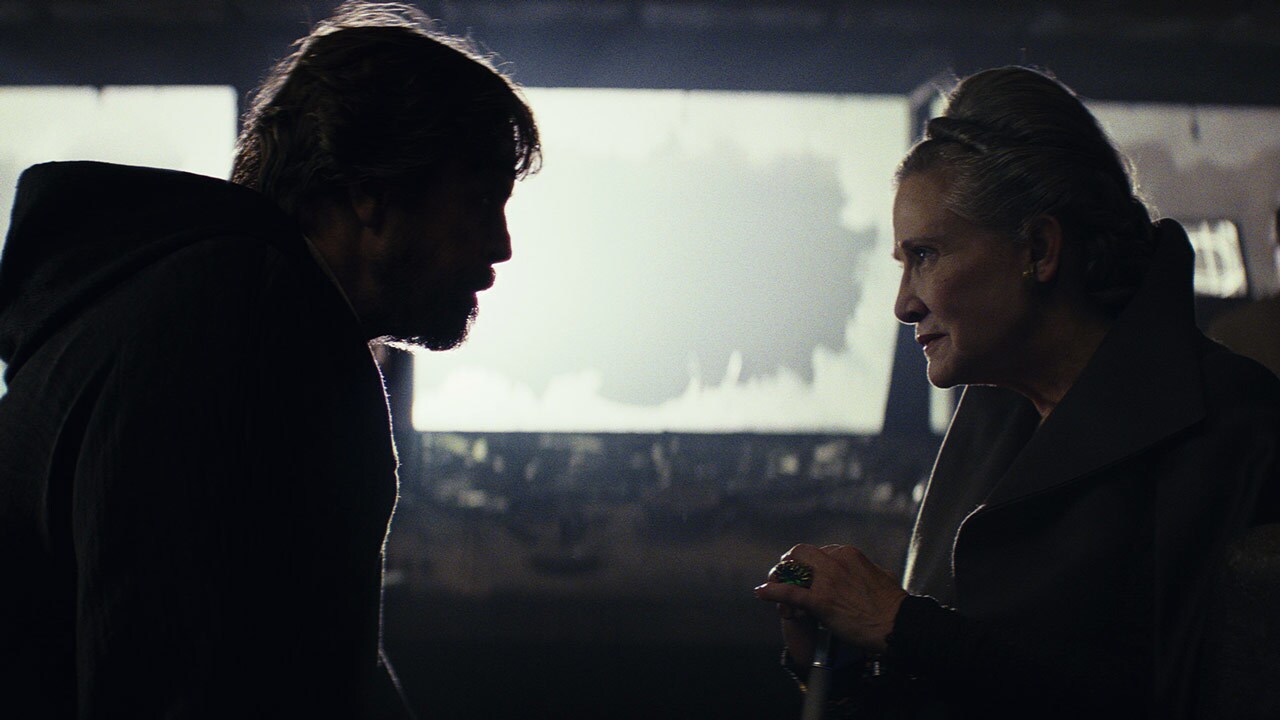 Leia is old and her near-death experience surely caused some sort of injury. (That's why for most of The Last Jedi after her accident we see her walking with a cane.) What if she didn't tell anybody but she possessed an internal injury that slowly ate away at her until she finally passes in her sleep one night without warning? This version of her death would highlight her bravery and her willingness, as a leader, to withhold hard truths to maintain hope for the Resistance. That sounds like a decision Leia would make in a heartbeat.
Leia Becomes One With the Force
Leia, also for the first time, used the Force in The Last Jedi in a way that ultimately revealed how powerful she really is and so shouldn't it make sense for her to join her brother in the afterlife as a Force ghost? Not only would that be ridiculously cool but it would be so symbolic as well, for she would live forever in the Star Wars galaxy just like she will always remain in our hearts. 🙂
I think that's the best theory but it might prove to be a bad idea because then comes the discussion of whether she'll return as a Force Ghost or not and Disney has already announced they are not making a CGI-Leia for the film.
Whatever the case, the knowledge of Leia's onscreen passing is going to eventually come to fruition and I can't wait to see which one of these theories will be the closest to the actual version that'll happen in Episode IX.
If you have any theories on how the iconic Leia Organa should be written out of Episode IX feel free to provide your ideas in the comments below. I thank you for reading and I hope you have a spectacular day. May the Force be with you.