As the breaking news surrounding Lucasfilm's halt on the Star Wars stories (for now) permeated the entertainment world there has been an abrupt uprising of Star Wars fans who want to remake The Last Jedi. A lot of times fans have roared outcries against movies, harping for remakes and complete annihilation of certain movies, but it's never been given a lot of traction. This time these fans seem kind of serious as they have started to make a petition for those wanting a remake of The Last Jedi. Even the writer/director of the film, Rian Johnson, has encouraged the fans, saying that he would love to see them remake The Last Jedi. But the question is, should The Last Jedi be scrapped and remade in the way that fans wanted it or would that make things worse? Well, here's a few reasons why it would be nice to do The Last Jedi over again.
1. Snoke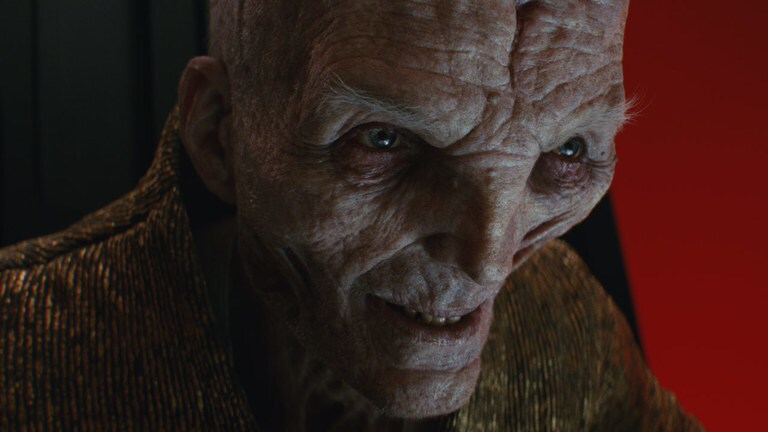 One of the greatest mysteries coming out of The Force Awakens was the questions involving Supreme Leader Snoke. The questions were simple. Who was he? Where did he come from? How did he convert Ben Solo to the dark side? Was he actually Mace Windu back for revenge? How was he so powerful? When The Last Jedi finally arrived I was hoping that at least one of these questions would be answered and unfortunately none of them were. Snoke was utilized into the movie only as a tool to push along Kylo Ren's story and when he was no longer needed Rian Johnson killed him off within the blink of an eye. I couldn't believe it. If there were to be a Last Jedi remake Snoke would definitely need more presence.
There were a lot of fan theories surrounding the identity of the mysterious Snoke but one of the most exciting rumors I remember seeing early last year was the idea that Snoke would reveal to Luke in an epic showdown that he was Luke's grandfather. Yes, it would be another "I am your father" moment except maybe even more surprising. Not only would that have been the ultimate drop-the-mic moment in the movie but it would've also fixed that terrible Anakin-is-a-midichlorian-bubble nonsense George Lucas crafted. This is why.
I used to think that when Shmi told Qui-Gon Jinn that her son, Anakin didn't have a father that it was a little fishy sounding so I always figured she was actually lying to him and not telling him who the real father was, which would make sense if he was actually this powerful and mysterious wielder of the dark side named Snoke. If she had told the Jedi Master that her son was the spawn of a Sith Lord or whatever Snoke is he would've definitely never agreed to try to train the boy. This would also shine a different perspective on Anakin turning to the dark side, for it would make more sense why the supposed "chosen one" was so easily tempted to do everything the Jedi Council said not to do. He couldn't help it. His father was one with the dark side!
All in all, Snoke needed more justice and I would love to see his story revamped.
Continue reading Should There Be A Remake of 'The Last Jedi'? →