Star Wars is a wonderful franchise that has captured the hearts of millions of fans around the world and part of the reason why is because of the characters. Without those incredible heroes like Luke and Rey or the memorable villains, Darth Vader and Kylo Ren, these movies wouldn't be half as entertaining as they are now.
Throughout the years there have been incredible character duos in Star Wars that have made the movies so much more fun to watch and today they are part of my weekly segment of Who's Your Favorite? Here are all of the Star Wars duos (this is solely based on the movies.)
Finn and Rey
Finn and Rey have had quite the journey through the trilogy so far. In fact, their individual journeys ended up leading them apart for the majority of The Last Jedi. But when they are together it's like a match made in heaven.
Before we were reacquainted with Han Solo and Chewbacca in The Force Awakens we were following the stories of youngsters Finn and Rey and they were so immediately lovable I didn't even miss the Star Wars veterans. Their friendship is part of the reason why I love The Force Awakens so much and I can't wait to see them have more time together in Episode IX.
C-3PO and R2-D2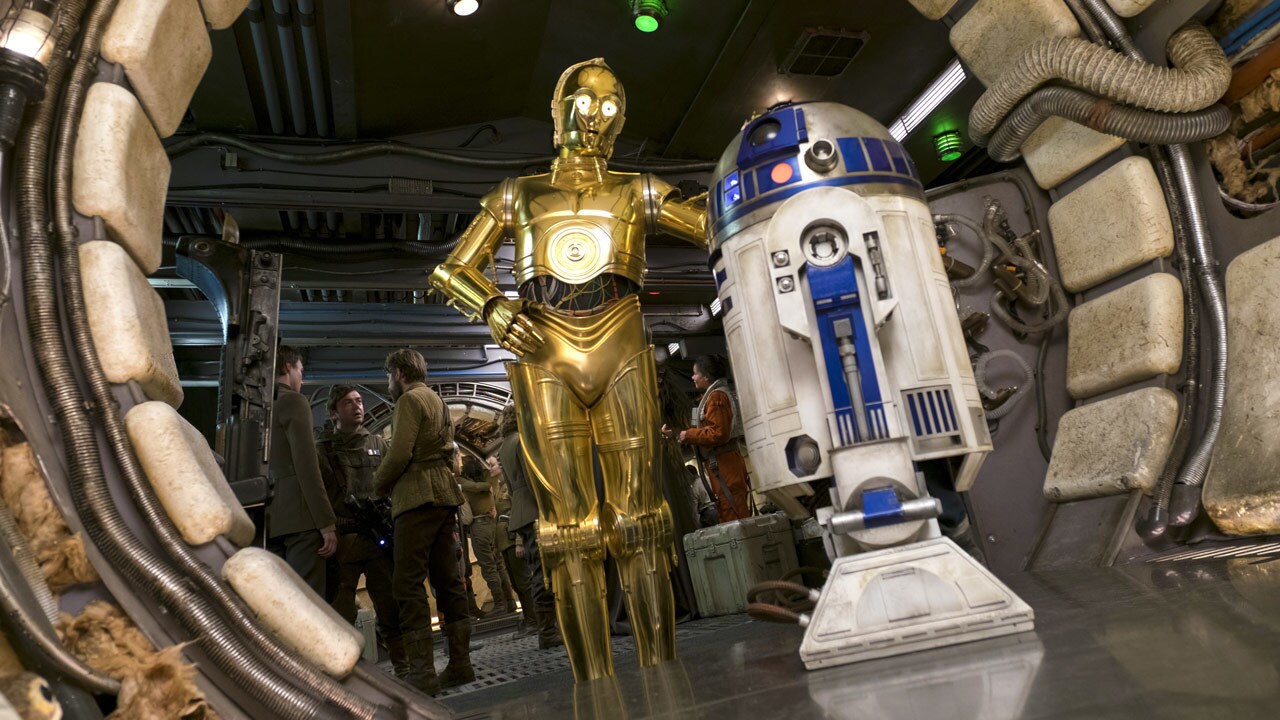 Three trilogies, four decades, and these two droids still are the best of buddies. While they may not share every adventure fate always brings them back together and it truly is endearing to watch.
And who doesn't love hearing C-3PO and R2-D2 bicker? 🙂
Chirrut Imwe and Baze Malbus
Chirrut Imwe and Baze Malbus, the last two remaining members of the forgotten Guardians of the Whills, were loyal to each other in Rogue One. Neither man left one's side for too long and they learned to survive together. While more of their backstory isn't entirely known they immediately were received very well by Star Wars fans because they were such a unique and awesome duo.
In fact, some people want to see a Star Wars Story dedicated to the demise of The Guardians of the Whills and I do too because I think it would be really cool.
Kylo Ren and Rey
While Kylo Ren and Rey may be mortal enemies now there was a brief moment in time when it seemed possible that Star Wars had completely changed the script by making Kylo and Rey the ultimate duo. And it was amazing. Seeing Kylo Ren and Rey fight the Praetorian Guards by using each other's strengths to propel them in the fight was astonishingly awesome and really made The Last Jedi stand out.
Even though it was brief this duo will always be one to remember.
Lando and L3-37
While Solo didn't fully elaborate on the companionship between Lando and fellow droid co-pilot, L3-37, it was pretty clear that they've had quite a history together. When we meet them they're like an old married couple; bickering and squabbling but clearly can't be without one another. If we do eventually get to see a Lando standalone film (which would probably get a lot more financial traction than Solo did) I would love to see more from this lovable duo.
Finn and Rose
Ah, Finn and Rose are so cute. I love that they're both unexpected "big deals." I love that they kind of have the same knowledge of machinery and technology which makes them all the more perfect for each other. And I just love them.
Han Solo and Chewbacca
And of course, the most classic and beloved duo of them all; Han Solo and Chewbacca. Since their debut in A New Hope this two-man smuggler crew have captured the hearts of fans all over the world and even with Solo coming out this year their friendship has only become even more enjoyable.
One of the best things about Solo was learning how Han met Chewie. Not only was it unlike anything I could've imagined but it was kind of awesome to see how their friendship came to be.
So, these are the major Star Wars duos. My favorite of the bunch is definitely a tie between Finn and Rey and Han Solo and Chewbacca. On one side I love the excited chemistry between Rey and Finn in The Force Awakens. Their magnetic energy makes me smile every time I see them together.
And then who doesn't love watching Han and Chewie talk with one another? It's absolutely brilliant. They have brought me so much joy in the years of watching Star Wars and if there is, in fact, another Star Wars standalone film with young Han Solo I can't wait to see more from them.
So, who's your favorite Star Wars duo? Do you love the classic friendship between C-3PO and R2-D2 or was the brief concept of a Kylo Ren/Rey team-up too awesome to handle? You can share your thoughts in the comments below.
I thank you for reading and I hope you have a wonderful day. May the Force be with you.