Every once in a while there comes a time when one must update their standing on how the Star Wars movies should be ranked, for as months go by new revelations come to light and that can move a film from first to fifth place in a blink of an eye.
Well, recently I participated, for the first time, in watching a Star Wars marathon using the Machete Order which means you watch the films in this order: Solo, Rogue One, A New Hope, The Empire Strikes Back, The Phantom Menace, Attack of the Clones, Revenge of the Sith, Return of the Jedi, The Force Awakens, and The Last Jedi.
After finishing that adventurous marathon experience I learned a lot about Star Wars and how beautifully and deeply interconnected the films' stories truly are. I was struck with revelation after revelation and I soon realized that it was time to update my ranking of these movies. Hence, this post. I hope you enjoy.
10. Attack of the Clones
Attack of the Clones is still hands down the worst Star Wars movie.
9. The Force Awakens
I'm sure you're looking at this and saying, "WHAT! How can The Force Awakens be this low on the list?" Well, this is how.
The Force Awakens is a GREAT movie and has brought me much happiness through the years but in actuality, it's a pretty awful Star Wars movie. J.J Abrams was tasked with bringing Star Wars back to life and he did, for the most part, but this film is truly a generic version of Star Wars rather than actually connecting with the other movies in sensible ways.
Rey is a mystery character that's unrealistically powerful. Everything is so convenient; the Millennium Falcon on Jakku, Luke's lightsaber in Maz's castle, R2-D2 waking up. The only thing that makes the movie worth caring about is Kylo Ren (and Finn.)
And that's why I have it placed at ninth on my updated list.
8. The Phantom Menace
The Phantom Menace was a blast to watch but at the end of the day it still has its flaws; Jar Jar Binks, the Tatooine sequence, and baby Anakin.
7. A New Hope
A New Hope is clearly a classic and it definitely deserves all the respect it can get but…there are better Star Wars movies. Yay!
6. Return of the Jedi
I used to not like Return of the Jedi that much because of the Ewoks (I still don't like Ewoks) but I have reacquired an appreciation for the classic trilogy finale. There are some exciting moments in this film that stand out and so for that reason, it's at #6 on this list.
5. Revenge of the Sith
Dark, epic, heartbreaking, those are the winning qualities of a memorable finale. Anakin's story may not be perfect but this movie brings me joy every time I watch it.
4. The Last Jedi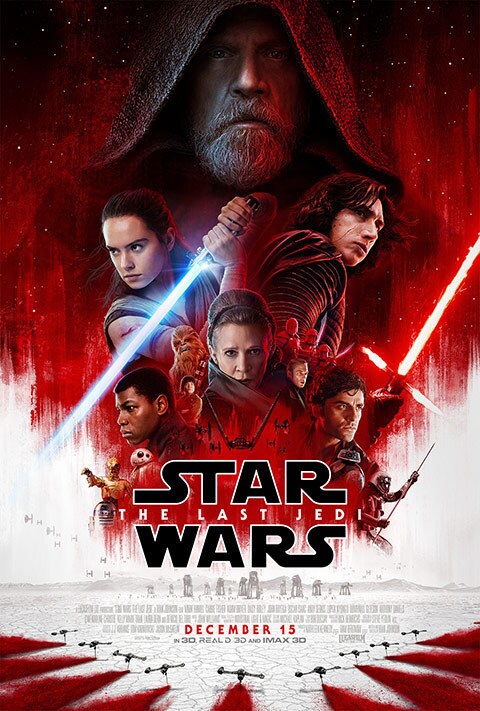 While this isn't the sequel that I may have expected, or wanted, I have grown an appreciation for it, especially after the machete order. It's not a perfect Star Wars movie, nowhere near it, but it is a great Star Wars film. Rian Johnson's vision was unique and held some nice surprises for the movie. I actually enjoyed Rey in this film compared to her annoyingly powerful status in The Force Awakens. And Kylo Ren shines in ways that no other Star Wars villain have.
3. Solo: A Star Wars Story 
Solo is so much fun to watch. Honestly, I did not expect to like this movie this much but it's kind of an amazing film. It's not only a brilliant adventure but its story only enhances the rest of the movies in the saga. Solo is one of those movies where the more you watch it the more enjoyable it becomes and I'm telling you, this film has made me ridiculously happy time and time again.
2. The Empire Strikes Back
The Empire Strikes Back is still considered the model of a perfect sequel. A New Hope was light and airy, The Empire Strikes Back is dense with emotional storylines. From Han and Leia's budding romance in space to Luke's training in Dagobah this movie leaves you riveted and wanting more.
1. Rogue One
And Rogue One still manages to reign supreme. I wish I could say that there was another Star Wars film that was my favorite but Rogue One is too perfect. The beginning, middle, and especially the end are superb. The characters are not only memorable but lovable as well. And Darth Vader shows out in this movie in such a stunningly awesome fashion that one can't help but give this film a mental standing ovation.
So, this is my current ranking of the films. Every few months or so I get a new revelation and the list changes but for right now this is how my ranking stands.
How would you rank the Star Wars movies? Feel free to share your thoughts in the comments below.
I thank you for reading and I hope you have a fabulous day. May the Force be with you.
And make sure to check out my exclusive content over at thefutureoftheforce.com. My newest post there is: The Potential Villains for Scarlet Johansson's Black Widow Movie