For the past two weeks, I have asked you all which outfits worn by heroines from the Star Wars and Marvel franchises that you've liked the most. For the next two weeks, I will turn to the heroes of these franchises and present to you their various looks that have managed to wow us. Enjoy!
Drax
If you like the fact that Drax refuses to put on a shirt, hence remaining the one character in the Marvel franchise who goes completely shirtless, then yeah, you'll love his unique look.
War Machine
War Machine isn't as sleek as Iron Man but what he lacks in sleekness he gains in weapons. Oh, so many weapons. His black and grey suit of armor is easily recognizable and his tank-like appearance makes him immediately someone you don't want to mess around with.
Hawkeye
Whether Hawkeye's the most popular Avenger or no one can deny his impressive style. From The Avengers to his most recent look in Avengers: Infinity War Clint Barton has always managed to kick butt and look cool doing it.
Bucky Barnes a.k.a The Winter Soldier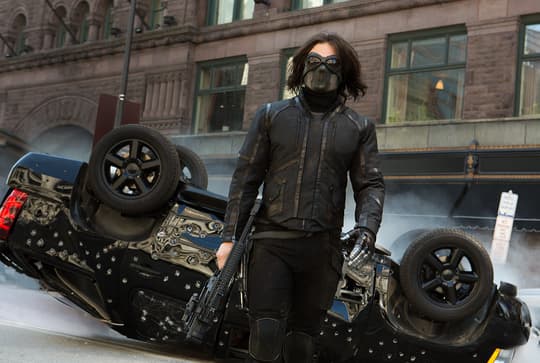 Bucky Barnes has looked deadly as The Winter Soldier.
And heroic as an ally of The Avengers.
Ant-Man
Ant-Man's design has always been simple but brilliant in the sense that it doesn't look strange. When I heard that there was a superhero named Ant-Man I was honestly afraid to see what he would look like. Thankfully Marvel did a great job bringing him to life in an appealing way.
Star-Lord
Star-Lord may not have a shiny suit of armor or anything worthy of Doctor Strange's grandeur but he definitely has style.
Vision
Vision's look is honestly his whole design. From the deep red skin and yellow eyes to the grey suit and golden cape, Vision is truly a sight to behold.
Spider-Man
Whether it's the iconic red and blue look that young Peter Parker dons in both Captain America: Civil War and Spider-Man: Homecoming,
or his awe-inspiring red and black suit in Avengers: Infinity War it's safe to say that Spider-Man looks pretty cool.
Thor
Thor has had various suits of armor paired with his iconic red cape but this one, seen in Infinity War, is his most recent. (Cool ax by the way.)
Black Panther
Black Panthers are some of the most majestic creatures in the world and so it's no surprise that Black Panther's suit is off the chain.
Doctor Strange
Doctor Strange is a fascinating character with a matching mesmerizing outfit with the glamorous golden Eye of Agamotto, his layers of belts, and his iconic cape. Perfect.
Captain America
From his dark blue and silver suit in The Winter Soldier,
to his rugged design in Infinity War, Captain America has displayed many different looks and I'm sure he'll have an exciting new look in Endgame.
Iron Man
Iron Man is one of the greatest superheroes ever created and his suit is absolutely phenomenal. From the first suit to the latest Tony Stark knows how to make an entrance.
So, of these heroes, who do you feel has the best outfit? So many of these heroes look amazing with their suits but my favorite definitely belongs to Doctor Strange. His cape is gorgeous and the blue Nepalese robes are mesmerizing.
Feel free to share your thoughts in the comments below. I thank you for reading and I hope you have a lovely day.