Two years ago my blog had only been around for a total of four months. At that time I didn't write very often but one thing I definitely was going to write was my excitement for The Last Jedi teaser.
In just one week us Star Wars fans will get the chance to finally see legitimate footage of Episode IX and we'll finally get to learn what the dang movie is going to be called. That's a very exciting thought indeed.
So, in preparation for this weekly countdown, here's a look back at my excitement when teaser for The Last Jedi dropped. Enjoy! 🙂
It has been almost a year and a half since The Force Awakens came out in the movies. Since its debut I have been so ready to find out what's going on in this next installment. Last year we were introduced to the first anthology film in Star Wars which was Rogue One. Yes it was a fantastic movie and yes it is now my favorite Star Wars movie of all time (even now it's still my favorite Star Wars movie) but it is nothing compared to my excitement for The Last Jedi. Well, the teaser, after this eternal wait is finally here. Enjoy!
Before This Christmas
So this trailer was full of gorgeous shots, exciting moments, and no knowledge of what the movie is exactly about which is always great. The first section of the movie before This Christmas showed up was enjoyable. It showed a lot of Rey, Luke was speaking for the first time which was incredible! All in all, it was a pretty impeccable first section of the trailer. It wasn't really anything special, I will say. Yes, it's Star Wars but it was like every other Star Wars teaser I've seen before. Fantastically put together clips, epic music, and someone talking. Then the rest of the trailer started and I was immediately entranced. Let's talk about the second half of this trailer.
 Kylo Ren and Captain Phasma
The Force Awakens introduced the world to the evil villain Kylo Ren. Kylo Ren at first wasn't a true villain to me due to his immense confusion throughout the film. Then after he killed his own father, the iconic Han Solo (is it just me or does it hurt to say that Han Solo is dead?) I knew he was going to be one to worry about in the next film. Kylo Ren is scary because he will kill the characters you like the most (like Luke or Leia) without any remorse and that is frightening. Seeing him in this trailer, no matter how brief was amazing.
First of all I'm glad that they chose a shot where he didn't have his mask so we could see his scarred face. The shot they chose, however, did not allow a full view of his face so you could only see the top half of the scar which makes it exciting to see him again in other trailers. Secondly, we're definitely going to get a better insight into Captain Phasma in this new Star Wars movie.
(From present day: Unfortunately, she didn't have as large a role as I had imagined. Boo.)
She looked frighteningly beautiful in that firelight alongside her menacing stormtroopers. It definitely looks like she'll have more to do in The Last Jedi which is appreciated.
And that shot of who I'm guessing was Luke dropping to his knees as he looked upon a burning building was the exact same thing from The Force Awakens that was occurring in Rey's vision. This was the best section of the trailer because the Dark Side is always very cool in these Star Wars films.
Everything Else in the Trailer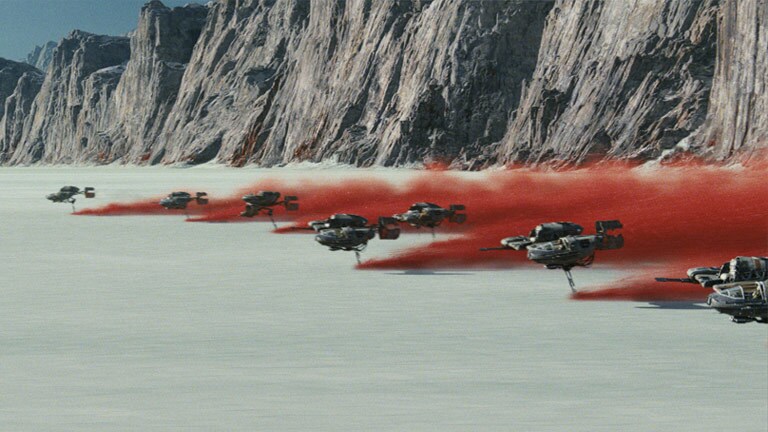 The rest of the trailer was just as fun to watch. The ships flying over that white flatland with red smoke (I didn't realize the "red smoke" was just the surface of Crait beneath the white salt) streaming from the backside. Epic!
And if you pause at that part you can see the silhouettes of walkers in the far distance. That's exciting! There was Finn in some sort of tank thingy. I can't wait to see what he's up to. Poe's black X-Wing got destroyed which is a shame. I loved his X-Wing. There was Rey running at night with her lightsaber. That shot of Leia was fascinating. I'm sure this movie is going to make her place in the Star Wars universe even more legendary. Wow, I can't believe it. This was the actual teaser. The teaser has finally arrived and it was awesome!
The Conclusion of my Thoughts About This Trailer
What this teaser shows me is the fact that The Last Jedi is clearly going to be better than The Force Awakens and Rogue One which I am pleased about. (Unfortunately, it wasn't. But I can say it's better than The Force Awakens.) I watched this trailer over a dozen times and it seems to get better with every viewing!
The music for this trailer is also very telling because it's underlying tones were sad. That isn't good. And with Luke saying at the end of the trailer that the Jedi will have to end, what is that all about?! I have a feeling I'm going to come away from The Last Jedi crushed in some sort of way. Let's hope Luke doesn't die. Disney, please don't kill Luke or anybody else that's cool.
If you're just excited as me then I hope this trailer made you as happy as it made me. Now, after this teaser, December seems a long way from now which is slightly depressing. But at least we finally have seen the teaser. I hope the next trailer will have another shot of Kylo Ren without his mask, maybe a glimpse of Snoke, and a look at the new characters in this next film. Until that time I can't wait to go see Guardians of the Galaxy Vol. 2 so I can see this teaser in all of its glory at the movies.
December 15th you all, December 15th!
Wow, looking back this post is so…fun and yet stirring at the same time. The Last Jedi would turn out to not be anyway like I expected and yeah, they killed Luke Skywalker after all. But it definitely makes me all the more excited to see the teaser for Episode IX next Friday.
I thank you for reading and I hope you have a great day. May the Force be with you.