The other day I watched the second half of Attack of the Clones, which I hadn't seen in years (I don't watch it very often anymore) and as I watched the movie I found myself baffled by Padme's role in the film. Yeah, I've watched the film a million times but I haven't really seen it during the Disney era of Star Wars. With so many inspiring and incredible heroines to enjoy it's almost shockingly bad how George Lucas treated his only heroine of the prequel trilogy; Padme Amidala.
And don't get me wrong. She's a great heroine, or at least she was in The Phantom Menace.
She was a teenage queen but you didn't even see that because of how mature she was. She didn't shrink under the scrutiny of the senators in the Republic, she didn't mind calling Chancellor Valorum out for his lack of care in Naboo's situation, and she wasn't afraid to die fighting for the people that she loved. She literally led her meager army, with the help of the Jedi, to war against the much larger force, the Trade Federation and won!
Fast forward three years later to Attack of the Clones and it's as if every aspect that made her such a likable character was erased, replaced by this storyline that made her seem weak in comparison to her role in The Phantom Menace.
Gone was the stern maturity that made her awesome as George Lucas decided to focus more on Anakin's story and leave her as the infatuated senator who practically lost all coolness after one kiss with the boy who she used to know ten years before that had now grown into a young man. It's ridiculous!
As I watched Attack of the Clones I couldn't help comparing her storyline to that of Rey and Princess Leia's in their respective sequels and how laughably terrible it is in comparison. And, of course, I had to share my thoughts with you about the subject. So, let's compare the similar aspects of each sequel between these characters.
Romance
Romance is a very important aspect in a Star Wars movie. Sometimes it's subtle, sometimes it's the dominating storyline, and for the sequels of all three trilogies (Original, Prequel, and Sequel) romance has been a major factor.
In The Empire Strikes Back the romance between Princess Leia and Han Solo was a major factor to her storyline but, unlike Padme, it didn't diminish her awesomeness. Han Solo's eventual winning of her heart didn't come easily.
Throughout the film, we see both of them bickering because Leia wasn't that easy. Back and forth they spewed arguments. She even went as far as kissing Luke to prove to Han that he wasn't the center of her universe but she did eventually end up falling for him. But it doesn't matter that she would end up loving Han. What matters is how she got there.
Unlike Leia, she didn't make it hard for Anakin to win her affection even though she clearly knew that falling for the young Jedi was a bad idea. Instead, she melts into the prospect of being with him and after that first kiss, she was practically toast. All she could think about for the rest of the movie is Anakin Skywalker, or, as she kept calling him, "Ani."
With her sternness practically eradicated you could almost forget she was a powerful senator of the Republic. You never forgot that Leia was not only a princess of Alderaan but a leader of the Rebellion.
And while it wasn't an official romance between Rey and Kylo Ren in The Last Jedi their bond was definitely more than a friendly occurrence, specifically after that heart-pounding hand touching scene. But unlike Padme, her feelings for Kylo didn't dominate her story. It was only an aspect that helped her character grow which I will elaborate on further in this post.
Action Scenes
Leia isn't an action hero, electing to lead rather than fight, but if she does have to use a blaster she does so very well. I love when she is trying to escape the cloud City with Lando, Chewbacca, C-3PO, and R2-D2 and with every stormtrooper that she sees she fires at them. It's this subtle hint that yes, she's madder than ever and is ready to take on the whole Empire after what had just happened to the man she loved.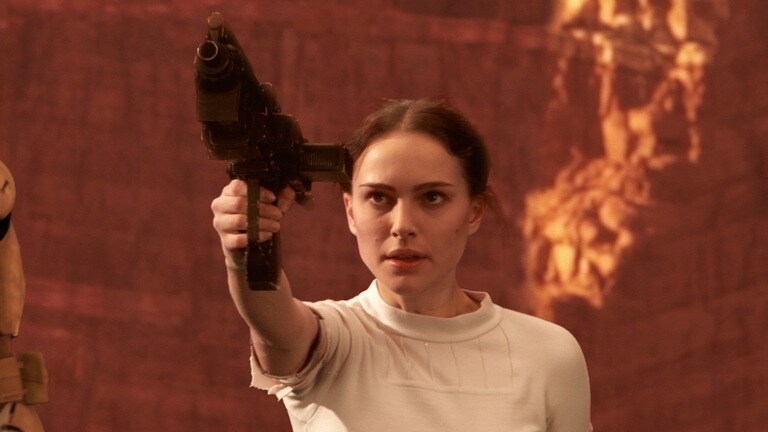 Padme was awesome in her action scenes in The Phantom Menace. Attack of the Clones, hmm, not so much. In the droid factory sequence, she doesn't take care of herself like Anakin did. Instead, she has to get rescued by R2 after falling in a lava bowl.
And then in the arena sequence, she does a pretty good job taking care of herself as she fends off the cat creature but her awesomeness is immediately discredited after Anakin rescues her from the cat and as she jumps onto the bull thingie behind him she kisses his cheek. *gagging noise*
That's the worst.
And I don't know, maybe it's the clunky blaster she's holding, maybe it's Natalie Portman's annoyance with the sequence, but it just feels like she's out of her element. She doesn't hold the blaster with enough authority, especially when you compare her action scenes to Leia's.
Rey's action scenes are amazing, obviously.
Strength
When I summarize what makes a heroine a FANTASTIC heroine is the level of her strength in a story. And I don't mean physical strength but rather the mental strength. The scene that I always find myself drawn to in terms of Leia's incredible mental strength is when Han gets frozen in carbonite. Remember, she had just declared her love for him moments before he would be lowered into the chamber of his potential demise.
Chewbacca's roars of anguish say it all. It's a horrible moment and yet, she doesn't shed a single tear. She keeps her composure knowing that all she wanted to do, as she stared at the pain on his frozen face, was to cry her eyes out. That scene alone is why I'm a Leia fan.
The one moment of strength that we have with Padme in Attack of the Clones is her first sexually tense moment with Anakin Skywalker. She's in her room packing her bags and complaining about wanting to stay in Coruscant and finish the bill that she was working on. Anakin also starts conveying his frustrations about being a padawan and Obi-Wan not believing in his talents and as Padme encourages him not to grow up too fast he stands, giving her this look, and she bluntly tells him to stop.
It's that one moment where you can perfectly visualize where Leia got her no-nonsense attitude from but it, unfortunately, doesn't last.
The scene that ultimately brings to me to Rey's strength, which has been conveyed many times throughout the sequel trilogy, is this one here. She and Kylo Ren have just killed the Praetorian Guards, she thinks Kylo has turned and is going to help her save the rebels but he has other plans. He speaks about him and her ruling the galaxy, he tells her that she's a nobody and that he's the only who cares for her. And then he gives her a choice; "Join me," he says.
At that moment she could've easily reached out, took his hand, and walked into the metaphoric sunset but she didn't. Despite her budding feelings for him she chose to fight.
And the second time we get to see her strength on full display is her final interaction with Kylo Ren. They have one last Force connection and as he stares at Rey he waits to see what she does. With a stern expression upon her face, she closes the ramp to the Millennium Falcon, thus shutting him off. It's such an impactful moment.
This slideshow requires JavaScript.
But one thing you can't deny is Padme's incredible wardrobe. She still has the greatest Star Wars outfits of all time. I mean, just wow!
I thank you for reading and I hope you have a lovely day.