Well, it's official. The Book of Boba Fett is in fact another spin-off series stemming from The Mandalorian whose third season is currently in pre-production and will most likely be filmed early next year. So, now that we're getting a true blue Boba Fett series next December (or Christmas Day) my brain is already beginning to cook up some pretty fantastic characters that could appear in the show. So, here goes my list of characters that could appear in The Book of Boba Fett.
Hondo Ohnaka
When it comes to famous Star Wars characters that only appear in the cartoons Hondo Ohnaka is one of them. Being the lovable rascal space pirate that he is, Ohnaka has made quite a few appearances in both The Clone Wars and Star Wars: Rebels so…it's only fitting that we would see him make his live-action debut in The Book of Boba Fett.
And it's even more plausible because he is alive during this time (thankfully I know he's around for a while because it just so happens you can meet an animatronic version of him at Galaxy's Edge in Walt Disney World.)
Qi'ra
I've already said this in a previous post but I'm going to say it again; Qi'ra needs to be in this series.
When last we saw the femme fatale/best-thing-about-Solo she was heading to an audience with Maul as the new defacto leader of Crimson Dawn. There are no records of her death so that means she could still be very alive by the time of the New Republic.
With Boba obtaining dominion over Tatooine and all of its criminal workings it only seems logical to include another powerful crime boss in the series and Qi'ra needs to fill that spot.
Plus, the more female bad***es we can get, the better.
Bossk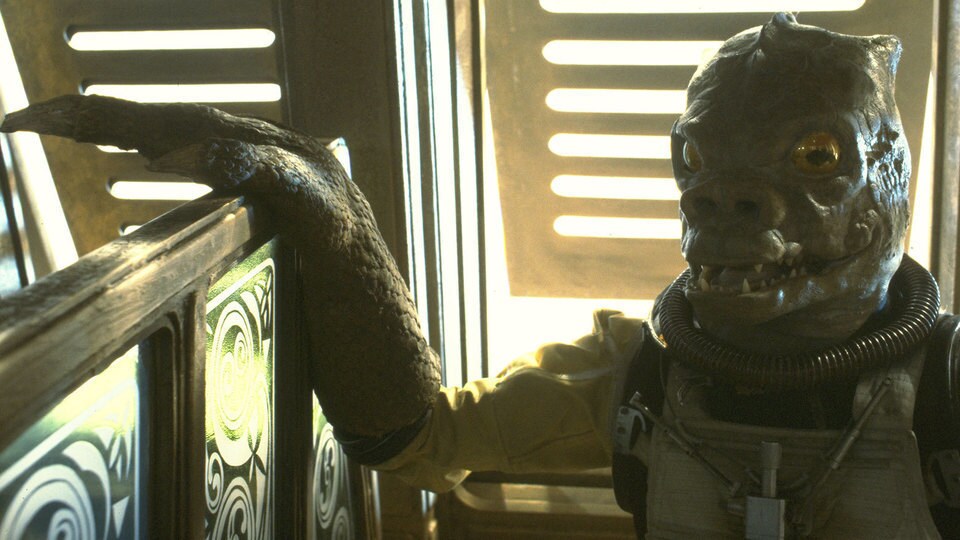 The Mandalorian has given us a chance to see cool bounty hunters be cool bounty hunters. I'm talking IG-88 and Boba Fett, both of whom have had their various chances to shine which only validated our love for the characters in the first place.
Bossk is one of those characters that looks pretty intimidating and seems like he would be a perfect antagonist (or ally) to be featured in a series like The Book of Boba Fett.
Captain Rex
I know it's more likely that we'd see Captain Rex make an appearance in Ahsoka but wouldn't it be kind of really cool to see Boba Fett come face to face with one of his clone brothers. Favreau has already kind of set up the idea of him being a clone with his confrontation with Bo-Katan. Their meeting could lead to some really interesting character development for the rad bounty hunter we didn't even know we needed.
Han Solo
And of course, you just know I had to go for the juggernaut. The theme of The Mandalorian was pretty much this; give the fans what they want. Well, this fan writing this post wants to see Boba vs. Han: The Rematch. It would be talked about all over Twitter, the hype would be so real, the excitement would be through the roof, and yeah, it would just be great.
Now, how would they incorporate Solo into the story? Would they do a Luke Skywalker and digitally de-age Harrison Ford or would they get Alden Ehrenreich to reprise the role as an older, slightly wiser version of the beloved smuggler? Either way, it'll be awesome.
Who would you like to see make an appearance in The Book of Boba Fett? I'd love to hear your thoughts in the comments below.
I thank you for reading and I hope you have a remarkable day. May the Force be with you.