You see the title of this post? It's not an exaggeration. Life of Pi, a film that was nominated for eleven Oscars, including Best Picture, and won four of them back in 2013, is undoubtedly the most beautiful and one of the most stirring films I have ever seen.
Before roughly about a week or two ago I had never heard of this film. I've never seen it on any lists for classics or movie buff essentials. I've never seen a single commercial for it or heard any chatter about it. And then one day I'm browsing through HBO Max and I stumble upon it. My sister and I saw the featured image for the film,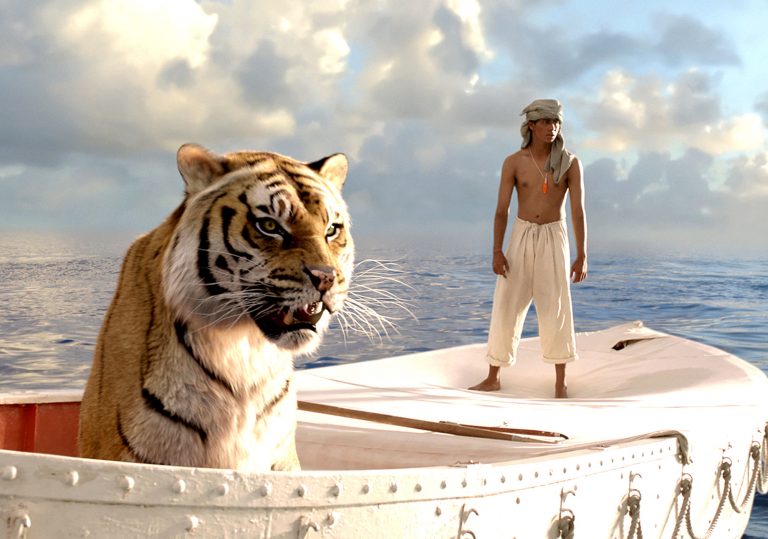 this, and immediately I said to myself, "I don't want to watch that." So we put it off, instead choosing to watch other great classics like Kramer vs. Kramer and The Green Mile. (By the way, The Green Mile freaked me out and made me utterly bawl my eyes out. Ugh, it hurt. Great movie. A+)
And then yesterday, instead of watching Citizen Kane which is another movie I know I've got to watch one day but I keep not getting the urge to, we decided to tackle Life of Pi because why not.
What transpired thereafter was two hours and seven minutes of me and my sister being utterly transfixed. From the opening minutes to the last, Oscar-winning director Ang Lee brings to life a story that feels like it's right out of the pages of maybe one of the most transfixing children's books ever written.
Life of Pi deals with spirituality, faith, and the meaning of life so profoundly in a way that I've never seen anyone else achieve in cinema. Plus, each frame, each shot was so moving in its brilliance and its driving force for the movie, that I was taken aback by its power. The movie that once held my top spot for most beautiful film was Lawrence of Arabia which absolutely astounded me with David Lean's incredible ability to make the desert seem like the most beautiful region on Earth.
And then Ang Lee absolutely obliterated that with this whopper of a cinematic experience that left me baffled in awe. Yes, Life of Pi has the potential to make you cry…a lot…like I did…but it wasn't exactly sad tears that I wept. I didn't come away from this film with a raging headache like I usually do after watching a movie that gets to my emotions in an extreme way. Instead, I came away from the film appreciating life and looking at the swaying green trees resplendent in the bright sunlight outside of my window with a little more appreciation.
If you've never seen this movie, Life of Pi is definitely worth a watch. It ultimately lost the Best Picture race to Argo which is another phenomenal movie so I can't hate on The Academy's choice but personally, I truly believe it was the best movie of that year and is honestly in my top five Best Films of All Time list because it really is that good.
I'm giving this movie 5 out of 5 stars and 100 out of 100. It's utter perfection and a true testament to the art of movie making.
I thank you for reading and I hope you have an exceptional day.