Yeah, this is a totally random post but honestly, I'm just feeling a bit of Sequel Trilogy nostalgia. I miss the days when I used to cling to roughly every word and every scene from The Force Awakens and The Last Jedi. I miss the days when my favorite Star Wars character was Kylo Ren and Rey was my personal embodiment of girl-power goals. I miss the days when I used to break down every juicy scene to determine how the trilogy would end. And I miss imagining The Rise of Skywalker to be this grand finale with a totally riveting and fantastic story.
So…because I miss the Sequel Trilogy, here's a look back to my favorite scenes in the Sequel Trilogy.
Let's start with the opening sequence of The Force Awakens and the ultra-rad introduction to Kylo Ren. This scene was perfection; a powerful opening featuring the bad guys with a charming hero being captured n the same vein as A New Hope. It was while watching this scene for the first time in theaters nearly six years ago that I knew I was about to have one of the best movie theater experiences in my life.
Ah, this scene. The moment that spurred Rey onto an adventure of a lifetime. This shot, the music, the whole nature of this scene provides me pure joy.
Not long after we get one of the best action sequences in the entire franchise. This scene is pure exhilaration; from the lovable interactions between Finn and Rey to the epic Millennium Falcon chase sequence that is pure movie magic. This was the moment where I no longer wondered if The Force Awakens was going to be a good movie.
No, I sat back in that theater and elected to enjoy the ride.
Speaking of great! scenes. This one. The Resistance were the new-and-improved Rebellion and they were lead by one of the coolest rebels ever introduced in the franchise: Poe Dameron. This scene still brings a massive smile to my face.
Ah, the reveal that shocked me to my core. (Was not expecting that!) Kylo's still got the best hair in the Star Wars biz and it's not even close.
As depressing as this scene may be, it's undoubtedly one of the best scenes in the entire franchise. It's poetic, it's tragic, depressing, and it is the beginning of a great new villain.
This was THE moment that Rey became one of my favorite heroines of all time. Her power, her bravery, and her fear all culminated into one very bad*** moment.
I still believe this is the best ending in Star Wars history. In the moment, it was legendarily epic in its brilliance. And even now, it gives me goosebumps. No, it didn't lead to the epic sequel we were expecting but it still shines bright as a perfect ending to a great Star Wars movie.
My favorite Force vision in the franchise, this scene in all of its creepy glory painted a very cool personal challenge for Rey in a way that was entirely different than anything we'd seen before.
Speaking of another "Whoa" moment. The story of Rey and Kylo; an unexpected love story between Force-wielders that transpired across the stars was a nice, new development. It was fresh, exciting, and it added an extra layer of depth the conflict between Rey and Kylo.
Back in the day, this was one of the most rewatchable scenes in Star Wars. It was so cool with the gorgeous setting, the crimson-clad guards, and the fight scene alone just looked good. Plus, with Kylo remaining evil and the jaw-dropping "parents" reveal, it just made this scene… *chef's kiss*
Carrie Fisher may have died but thankfully we got one last beautiful interaction between Luke and Leia which stills brings tears to my eyes to this day. It's such a great scene!
Speaking of great Luke scenes: THIS!
AND THIS! Luke dropped the mic in this movie. Oh yes he did.
And no one can convince me Rey and Finn weren't supposed to finally be together in the final movie. Their scenes together are so sweet and this hug meant everything. Lucasfilm was just too scared to do the right thing.
Uh-oh. I'm getting negative. Let's get to the next scene.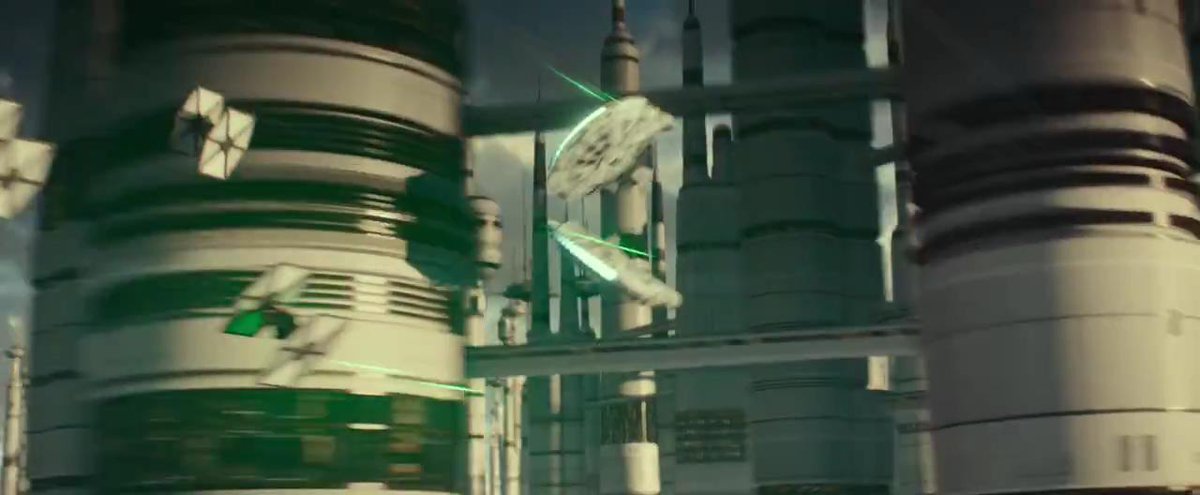 I've got to admit, I did love the lightspeed skipping part. It was short but was a very cool concept.
This scene is actually still super rad. The jump over the ship, the Force tug-of-war over the First Order transport which results in Rey's lightning ability being unleashed and Chewie's supposed death. Ooh, that was a shock.
This scene was so good; two rebel stormtroopers confiding in one another about their bravery, Finn believing in the Force, their comradery was so powerful and I still believe they're a long-lost brother and sister.
Despite all my gripes with The Rise of Skywalker this scene is not one of them. The callback to The Force Awakens, the turning moment for Ben and how his face crumbles when he calls Han for the first time in the trilogy, "Dad." Oh, this scene wrecks my emotions every time!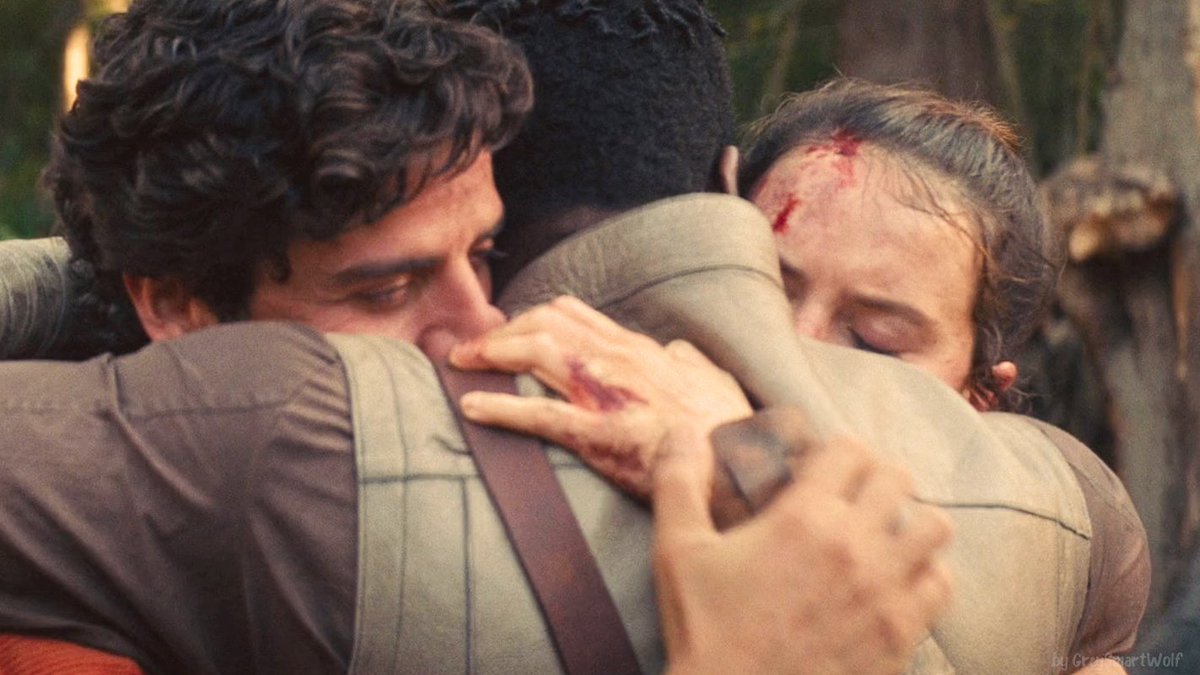 Like I said before, this movie isn't perfect but this moment between Finn, Rey, and Poe is beautiful and yes, very tear-inducing. I just wish we had more time with them as the awesome trio that they were.
So there. That's my love for the Sequel Trilogy wrapped in a single post.
I thank you for reading and I hope you have a wonderful day. May the Force be with you.