Well, the teaser trailer is here and that means it's time to start theorizing about what this movie could be about to show us as well as the potential storyline taking place in Doctor Strange's latest trippy adventure. Enjoy!
The teaser trailer starts off by having Doctor Strange echo the words he told Peter Parker: "The multiverse is a concept about which we know frighteningly little."
The first shot we see of Doctor Strange is here in the broken watch that Christine gave to him as a present. This shot reminds me of a scene from What If…? where we see Doctor Strange lamenting Christine as he holds the Eye of Agamotto.
One thing What If…? made very clear was Doctor Strange's love for Dr. Palmer and despite things not working out between them in Doctor Strange it doesn't mean that he's forgotten her.
Will Christine be a partial driving force of this movie? It's very possible.
The next few seconds of the trailer are very interesting indeed. My immediate conclusion of this portion of the trailer is that this may be another variant of Doctor Strange. The Sanctum Sanctorum's entrance looks different (if it is the Sanctum Sanctorum) and his cape has a strange patch on it. It's either simply a new look for Strange or it is the proof that this isn't the Strange we know.
It's also very clear that the universe is being torn asunder like it did in What If…? Is this a connection to Doctor Strange Supreme at the end of the trailer or is something else happening?
And will we potentially see The Ancient One return once more for spiritual guidance as Doctor Strange tries to save not just the universe but the multiverse?
Next, we see a myriad of clips featuring Doctor Strange in increasingly ominous shots as he says: "It was the only way but I never meant for any of this to happen."
I have two theories about this particular line in the trailer.
It's either our Doctor Strange being confronted for helping Spider-Man in No Way Home and nearly destroying the worl. Or 2. It's Doctor Strange Supreme telling, perhaps, Doctor Strange about what he did to try to get Christine back and how his universe was destroyed because of it.
I'm thinking the latter. The voice just sounds too sorrowful, too broken, and it reminds me of how Cumberbatch portrayed Doctor Strange Supreme in the finale of What If…?
After that chaos ensues for just a moment as we see Wanda via a glowing red hand, (uh-oh), Christine Palmer is getting married but not to Strange (which will be a harsh blow to our love-stricken superhero as he undoubtedly reflects over why he had pushed a woman like her away), there's a creepy shot of a mysterious raven, the back of America Chavez, Wong looking like he's in serious trouble (oh no!), and Doctor Strange getting pummeled by some incredible portal looking thing.
This is when the trailer truly begins.
As we see Doctor Strange enter undoubtedly one of Wanda's made-up paradises he enlists her for a mission involving the multiverse. And just like that, we know that this movie involves something going terribly wrong pertaining to the multiverse and that Doctor Strange is in desperate need of an extremely powerful friend if he's willing to ask Wanda for aid.
Is it an aftereffect of the spell he created to help Peter Parker in No Way Home or a direct correlation to the fiasco that transpired in Loki's season finale when He Who Remains was killed and the multiverse was allowed to branch out into apparent madness? I'd like to think a mixture of both, that's why No Way Home was an essential watch before Multiverse of Madness.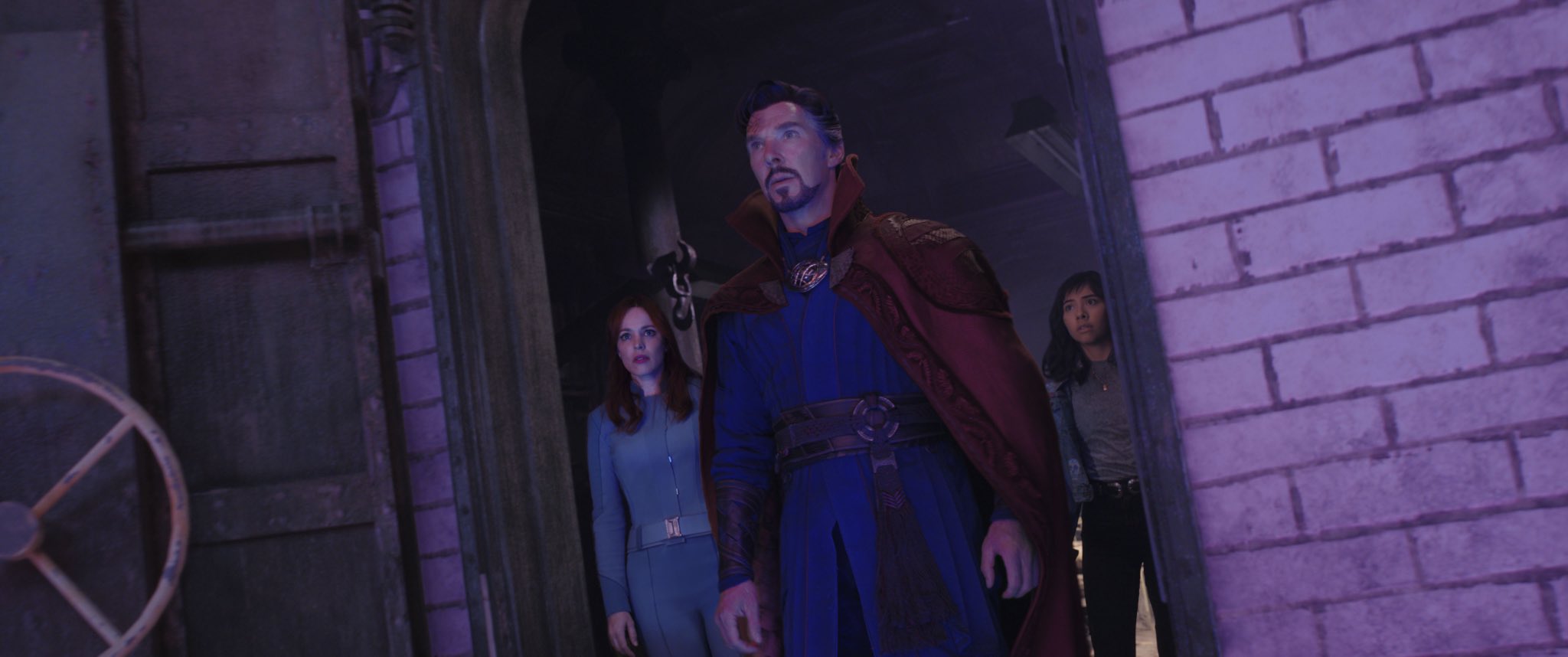 Doctor Strange's mission is underway and he's got some help. For some reason, Christine Palmer is joining the mission. Her attire gives me a reason to believe that she's going to be much more important in this film because those aren't the clothes of a simple doctor. That's a specific outfit, maybe imbued with spells and whatnot. Who knows but it is interesting to see her joining Strange on this particularly intriguing adventure.
And with them is America Chavez a.k.a Miss America. Xochitl Gomez is making her MCU debut as the star-punching portal hero who has a knack for being awesome. I can't wait to see how she factors into this story and if she has the pizzazz that America Chavez has an abundance of in the comics.
Mordo is back with a cool new look as well as ominous words for Strange. He tells him as a flurry of intense clips play featuring imminent showdowns, explosive battles, fiery battlefields, floating Scarlet Witch, and the debut of a certain tentacled beast called Shuma Gorath: "I'm sorry Stephen. I hope you understand the greatest threat to our universe is you."
This is the end of the trailer where we are introduced to none other than Doctor Strange Supreme. Of course, I feel that this is a clear diversion considering that Doctor Strange Supreme isn't even a villain. He's just a sad man who lost the love of his life.
This very well could be a different Strange Supreme though. One that does have evil intentions and will find a way to use Wanda to rule the multiverse.
And what the heck is that? We see our Doctor Stranges in a room that looks very much like a room somewhere in He Who Remains' humble abode and yet the view is anything but soothing.
What is this place, what is Dark Doctor Strange doing there, and how will I be able to contain myself watching something so utterly fantastic?!
As you can probably tell, I'm really excited about this movie. In fact, this is my most-anticipated MCU film since Endgame which is saying something.
When I walked out of my local theater in November of 2016 after having just watched Doctor Strange I couldn't wait for him to have a sequel and now that we're only five months away from seeing this incredible-looking piece of work I am just beaming within. I can't wait!
What do you think this movie could be about? Feel free to share your thoughts in the comments below.
I thank you for reading and I hope you have a spectacular day.